DRIVE INTO THE DISTANCE ZONE: 
PUT THE PEDAL TO THE MEDAL and GO GO
Do you want to learn how to teach your dog to drive forward ahead of you? Do you have a dog that curls back at you, spins or barks when you get behind your dog? Do you have a hard driving your dog to the last obstacle? If you answered yes, then this class is for you.
*8+ Lessons
*Foundation and Lesson 1 available as soon as you sign up! So you can start working right away!!
*You have 6 Months to submit video for my review
*Access to the class til the end of 2020
Teaching your dog to drive forward opens up your handling options and makes for a more flowing smooth run. Additionally, many FAST/Chances/Gamblers/Jackpot classes require the dog to send ahead while being behind a line. In this class, we will go over the steps to teach your dog to continue to drive forward even when you get behind. We will be doing my favorite driving forward exercises to teach our dogs to go go go!! With each lesson, I will go over when to cue and what cues to direct your dog through the sequence. We will go over how to reward your dog. Step by step instructions, videos and assignments are given. Multiple videos with different dogs will be shown including my young pup Inspire. During this class, you will see videos of Inspire learning to drive forward from the ground up. This class will start with the groundwork exercises to teach forward distance without equipment and move on to working with equipment. 
Why take this class: 
Perform fun sequences proven to teach your dog to drive forward
Teach your dog to NOT SPIN and come back at you
What cues to use to teach your dog to drive forward
How to build and increase distance skills
Importance of targeting to teach forward focus
Importance of teaching lateral distance
8+ Lessons to teach your dog to drive forward


What level? Open to all dogs over 10 months that can perform contact, hoops or jumps and tunnels.
Minimum equipment- 1 tunnel and 6 jumps or hoops. (I will be using 2 tunnels in a lesson or 2 but you can substitute tunnel with hoops or jumps)
Working Spot: Participants submit videos for review. Lisa will critique the videos and provide invaluable feedback.
Auditing Spot: Participants can watch all content and ask questions. They do not submit videos.


Lisa Schmit has developed a comprehensive and effective training program to teach distance. The goal of our training program is to instill knowledge, confidence and skills to work away from your dog. We make learning to drive into the distance zone positive and fun! This class is designed to give you the information you need to successfully teach your dog to drive forward at distance.


Disclaimer: The information in this class may overlap or appear in other classes due to the foundation skills needed.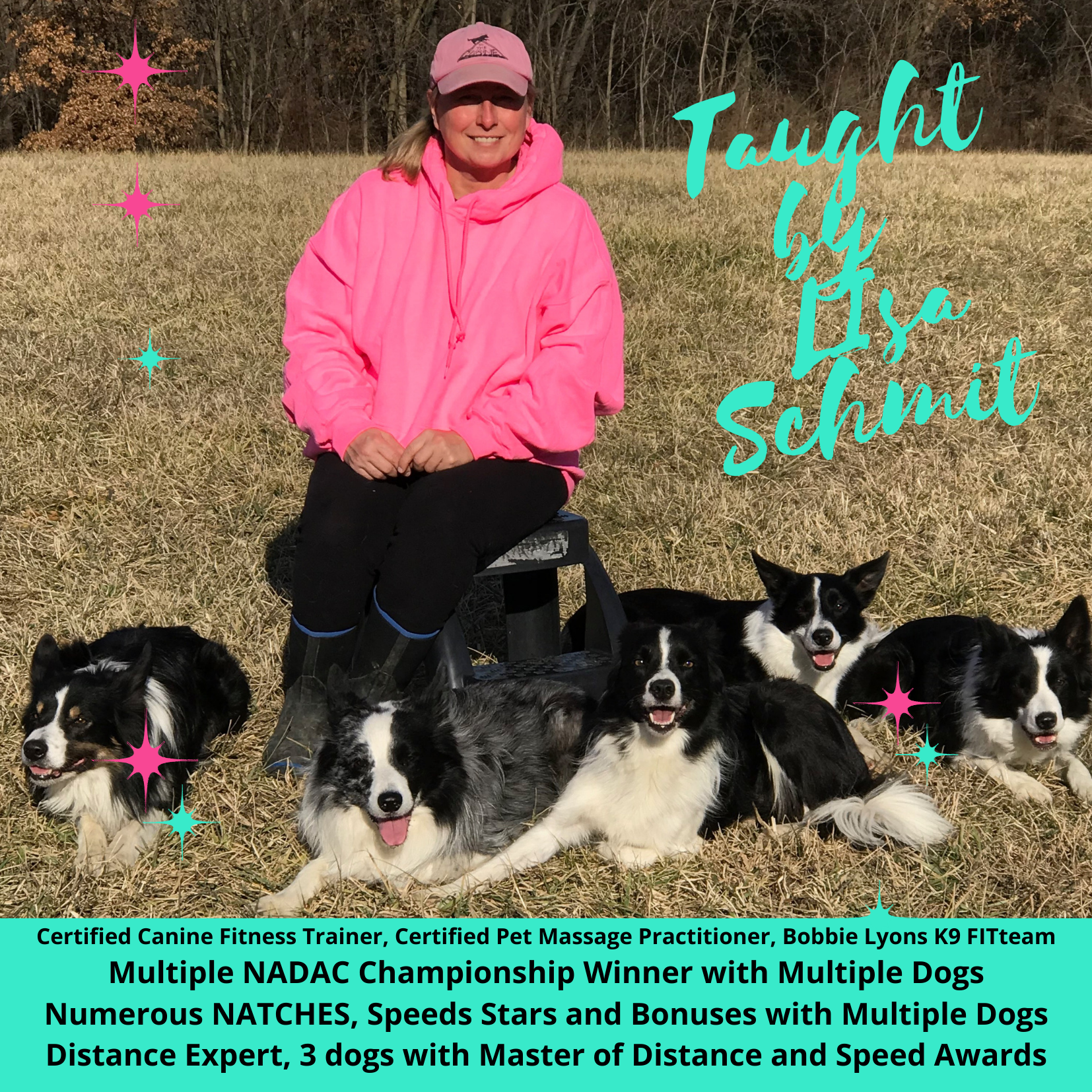 Lisa Schmit, PhD, CCFT, CPMP
Lisa is the owner of In The Zone, LLC. She is a Certified Canine Fitness Trainer, a member of Bobbie Lyon's K9 Fit Team and Certified Pet Massage Practitioner.  Lisa is one of the most accomplished handlers in NADAC. Her consistent, clear positive approach to dog training is evidence with her continual success with multiple dogs! Lisa has come home from the NADAC Championships with 10 trophies with 5 different dogs. She has finished in Overall Top 3 at NADAC Champs 22 times with 9 different dogs including her Brittany and Aussie. Tandem, JP7 and Revolution earned the coveted Purple MODSQUAD award--Master of Distance and Speed which requires high level distance handling and speed. Less than 25 dogs in the world have this award and Lisa has three of them. JP7 and Tandem earned the Distance Cup Award. Nine of her dogs have over 175 NATCHES, over 45 Speed Stars. Eight of her dogs have almost 200 Bonus Runs (requires big distance skills). Her dogs are consistently in the Top 10 every year and in most categories in the NADAC Hall of Fame.
She offers agility, conditioning and massage seminars across the continent. Additionally, Lisa puts on about 12 NADAC trials a year.  To learn more about Lisa go to: http://inthezoneagility.homestead.com/aboutme.html !