CALLING ALL TUNNEL SUCKERS!


LEARN HOW TO AVOID THE TUNNEL VACUUM
Taught by Lisa Schmit, PhD, CCFT, CPMP


Is your dog a tunnel sucker?
Does your dog 'blow you off' to go to tunnels?
Does your dog see a tunnel and drive to it regardless of your handling?
Can you turn your dog off a tunnel when it is directly in front of them? 
At the start-line does your dog peruse the field so he knows where all the tunnels are? I had one of those !!
In this 6 week class, we will go over how to teach your dog to understand your cues and take tunnels only when cued to take them! We will work on turning towards you and away from you when there is a tunnel directly in line.  We will work on sequences when the tunnel is taken and then not taken.  This allows the dog to learn the difference in your cues and rewards the dog by cueing to take the tunnel.  We will focus on teaching the appropriate cues so your dog knows when to drive to a tunnel and when to turn even when a tunnel is in sight, Teaching your dog to fully understand your cues is a very important element to teaching dogs NOT to take tunnels. 


We will start with foundation exercises to work on teaching cues which including driving forward to tunnels and turning.   We will use targeting and rewarding to teach your cues. As the class proceeds, we will progress with more difficult sequences to test your dog's responsiveness to your cues. 
Why do dogs become tunnel suckers?
Handlers are late or inconsistent with their cues
Handlers are inconsistent with their rewards
Dogs are stressed and use tunnels as a stress reliever
Dog really loves doing the tunnel so we have to work on adding value to other obstacles but also showing the dog he can be rewarded with tunnels


Why take this class:
Learn how to give your dog consistent cues
Learn how to teach your dog difference between driving to tunnels and not taking tunnels
Learn how to use targeting and rewarding to teach your cues and reward responsiveness 
Learn how to teach your dog to drive by tunnels
Learn how to build and increase distance 


This class will be great fun and very informative!
What level are the sequences:
Open to all dogs over a year old that can perform hoops or jumps and tunnels. This is a good place for young dogs just learning these skills as well as more advanced dogs.
Required Space: 
Spacing varies and can be adjusted especially depending on size of tunnels.  I have a 10 foot tunnel that I LOVE !! 
 Some sequences can fit in 30x40 most can fit in 50x50 area. 
Required equipment
: 2 tunnels, 5 jumps or hoops.  I will be using more hoops but sequences can be adjusted for less hoops or jumps. 
Price: Working Spot
: $129 Students have access to all content and ask questions. Students can submit homework videos for review. Lisa will critique the videos and provide invaluable feedback.
Auditing Spot
: $79 Participants can watch all content and ask questions. They do not submit videos.
Access to Class: 
Working Teams have 6 months to submit video. Everyone has access to the class until the end of 2020. 
Disclaimer:
 The information in this class may overlap or appear in other classes.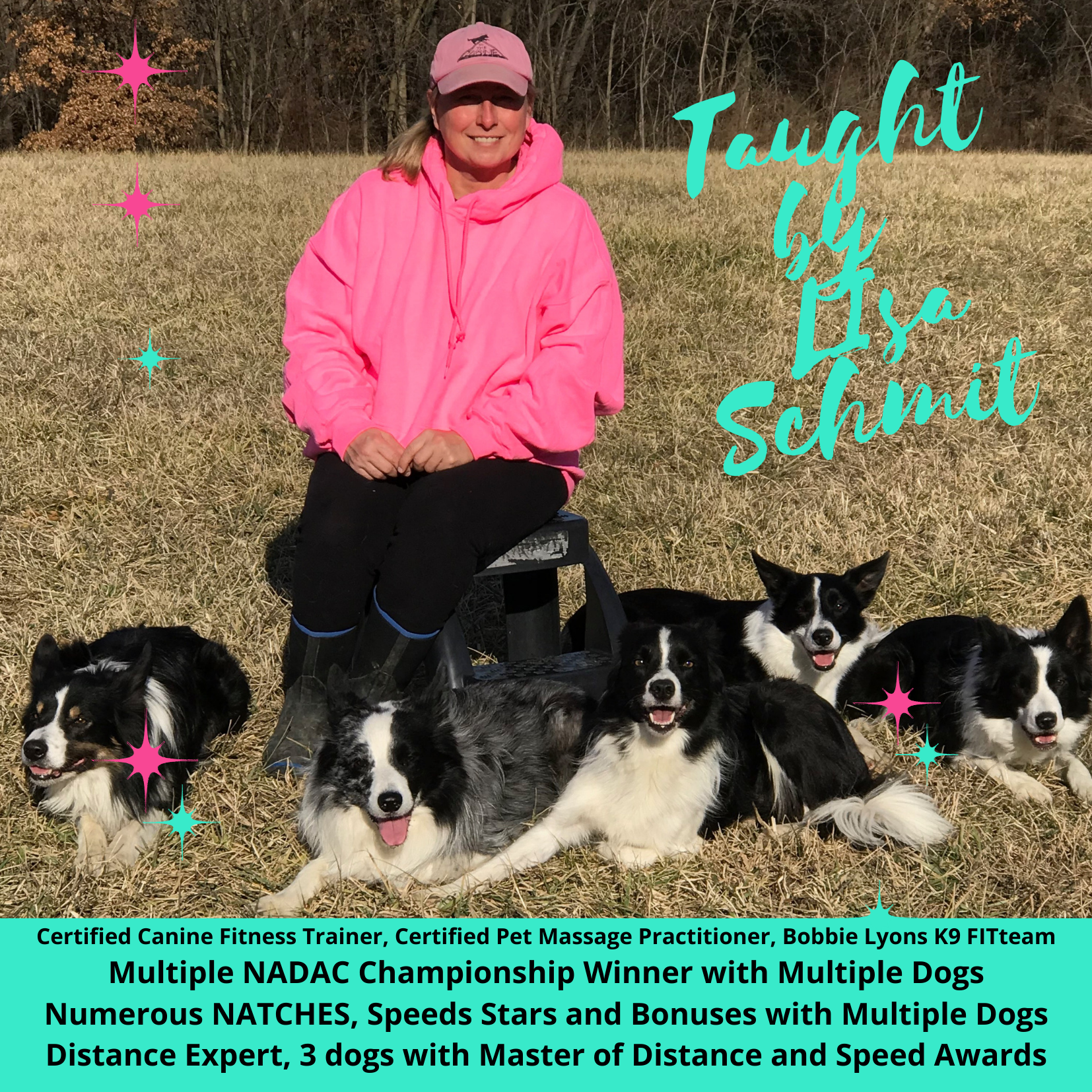 Lisa is the owner of In The Zone. Lisa is one of the most accomplished handlers in NADAC. Her consistent, clear positive approach to dog training is evidence with her continual success with multiple dogs! She offers agility, conditioning and massage seminars across the continent and puts on about 12 NADAC trials a year.  To learn more about Lisa go to:  http://inthezoneagility.homestead.com/aboutme.html
·      Certified Canine Fitness Trainer, Certified Pet Massage Practitioner, Bobbie Lyons K9 FITteam
·      Multiple NADAC Championship Winner with Multiple Dogs
·      Distance Expert
·      3 dogs with Purple MODSQUAD Awards- Master of Distance and Speed (less than 25 dogs in the world have this award)
·      2 dogs with Silver Distance Cup
·      Numerous NATCHES, Speeds Stars and Bonuses with Multiple Dogs